BIO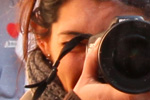 I was born in Milan, where I returned after a childhood of travelling around the world with my family, following my father and his job.
Early fascinated by diversity, I have been silently collecting faces, colours, shapes, styles ever since, with child's eyes first, and the aid of a lens later.
Through photography I enjoy expressing time, society and life as it unfolds.
I've been a published photographer for Vogue Italy and have created photographic projects for International Associations of Social Promotion. As Photo Editor I've curated the online imagery for art exhibitions by Contrasto, Electa, Fondazione Mazzotta and Mondadori.
I've been Photographer and Photo Editor for EXPO Milano 2015
My latest committed works and personal projects are published on this website.
For further information and detailed CV please contact me at
barbara@barbarafrancoli.com