BIO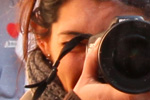 I was born in Milan, where I'm still based. Early fascinated by travelling, I have been silently collecting faces, colours, shapes, styles ever since, with child's eyes first, and the aid of a lens later. Through photography I enjoy expressing time, society and life as it unfolds.
Completed my degree in theatre direction from the International Theatre School in Milan I specialized in journalistic photography and photo editing at the Italian Institute of Photography.
I've been Photographer and Photo Editor for EXPO Milano 2015. As Photo Editor I've curated the online imagery of art exhibitions by Contrasto, Electa, Fondazione Mazzotta and Mondadori Group. I create photographic projects for Associations of Social Promotion and I work with Communication Agencies in Milan.
My clients are: Accenture, BNP Paribas, Cacao Design, Carlo Donati Studio, Coop, Doing, Edison, Expo2015, Fob Watches, Giallozafferano, Gruppo Mondadori, Hines Real Estate, Homedit Magazine, Il Post, Io Donna, Moltrasio, Nadler Larimer & Martinelli, Pizzoli.
for latest committed works and further information please contact me at